Kim, Tag-Gon Kim, Tag-Gon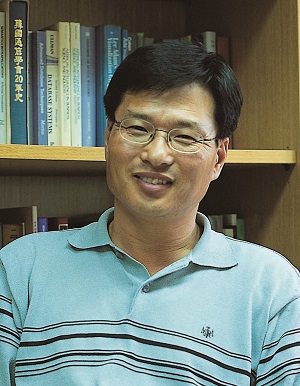 Research Group

Computer

Research

Computer/ Communication Systems Analysis,Discrete Event Systems Modeling/ Simulation

Laboratory

Systems Modeling Simulation Lab.

Building

Contact

3454

Email

Website
Degree
Ph.D. (1988) Univ.of Arizona
Achievement
[1] DEVSim++ Toolset : The First International Bernard P.Zeigler Modeling and Simulation Award. Track II : Commercial DEVS Application First Place

[2] Daejin Park, Chang Min Kim, Sungho Kwak and Tag Gon Kim, "A Low-Power Fractional-Order Synchronizer for Sync-Less Time-Sequential Synchronization of 3DTV Active Shutter Glasses", IEEE Transactions on Circuits and Systems for Video Technology, Vol. 23, No. 2, pp. 364-369, Feb 2013

[3] Jeonghee Hong, Kyung-Min Seo, and Tag Gon Kim, "Simulation-based optimization for design parameter exploration in hybrid system: a defense system example," SIMULATION: Transactions of The Society for Modeling and Simulation International , Vol. 89, No. 3, pp. 362-380, Jan 2013.

[4] Changho Sung and Tag Gon Kim, "Collaborative Modeling Process for Development of Domain-Specific Discrete Event Simulation Systems", IEEE Transactions on Systems, Man, and Cybernetics - Part C: Applications and Reviews, Vol. 42, No. 4, pp. 532-546, Jul 2012.