Yoo, Hoi-Jun Yoo, Hoi-Jun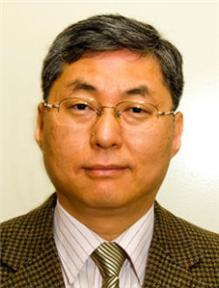 Research Group

Circuit

Research

System On Chip design, Healthcare system, Network On Chip with Humanistic processing

Laboratory

Semiconductor System Lab.

Building

Contact

3468

Email

Website
Degree
Ph.D. (1998) KAIST
Achievement
"A 320mW 342GOPS Real-Time Dynamic Object Recognition Processor for HD 720p Video Streams," JSSC (2013).
"A Sub-10 nA DC-Balanced Adaptive Stimulator IC With Multi-Modal Sensor for Compact Electro-Acupuncture Stimulation," TBioCAS (2012).
"The Signal Transmission Mechanism on the Surface of Human Body for Body Channel Communicationn," TMTT (2012).
"A 345 mW Heterogeneous Many-Core Processor With an Intelligent Inference Engine for Robust Object Recognition," JSSC (2011).
"A 3.9 mW 25-Electrode Reconfigured Sensor for Wearable Cardiac Monitoring System," JSSC (2011).
"Fabric Type Semiconductor Device package and Methods of Installling and Manufacturing Same," US Patent 0258314 (2009).