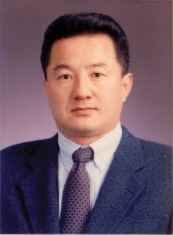 Research Group

Device

Research

Solid state nano-structures and nano-devices

Laboratory

Terahertz Nano System Lab.

Contact

7411

Email

Website
Degree
Ph.D.(1994) Univ. of Texas at Austin
Achievement
"Low complexity maximum likelihood decoder for four-transmit-antenna quasi-orthogonal space-time code," IEEE Trans. Comm. 53, 1817 (2005).
"Efficient algorithm for blind detection of orthogonal space-time block codes," IEEE Signal Process. Lett. 14, 301 (2007)
"Design and fabrication of ZnO-based FBAR microwave devices for mobile WiMAX applications," IEEE Microw. Wirel. Compon. Lett. 17, 867 (2007).
"Average bit-error rate of the Alamouti scheme in gamma-gamma fading channels," IEEE Photonics Technol. Lett. 23, 269 (2011).
"Nitrogen [N]-incorporated ZnO piezoelectric thin films & their application for ultra-small FBAR device fabrication," J. Appl. Phys. 110, 74101 (2011).