Kim, Yong-Hoon Kim, Yong-Hoon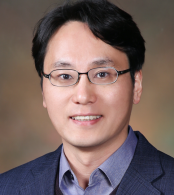 Research Group

Device

Research

First-principles simulations; Quantum transport & optics; Nanoelectronic & energy devices

Laboratory

1st-Principles Nano-Device Computing Lab

Building

Contact

042-350-1717

Email

Website
Degree
Ph.D. (2000) UIUC
Achievement
M. E. Khan et al. "Semimetallicity and negative differential resistance from hybrid halide perovskite nanowires" Adv. Funct. Mater. 29, 1807620 (2019).
S. W. Jung et al. "Nitrogen doping of carbon nanoelectrodes for enhanced control of DNA translocation dynamics" ACS Appl. Mater. Interfaces 10, 18227 (2018).
Y. Yu, et al. "Epitaxially self-assembled alkane layers for graphene electronics" Adv. Mater. 29, 1603925 (2017).
Y.-H. Kim, et al. "Stretching-Induced conductance variations as fingerprints of contact configurations in single-molecule junctions" J. Am. Chem. Soc. 139, 8286–8294 (2017).
M. J. Ju, et al. "Edge-selenated graphene nanoplatelets as durable metal-free catalysts for iodine reduction reaction in dye-sensitized solar cells" Sci. Adv. 2, e1501459 (2016).