[Honor Code Pledge] Implementation Guide
We would like to inform you that the Honor Code pledge will be implemented for students who register for courses from the fall semester of 2021.
The Honor Code pledge is a pledge to keep the rules of honor to enhance the sense of ethics and responsibility. From July 30th(Fri), current/matriculating students and students on leave of absence will see the following pop-up when accessing the main screen of the academic system.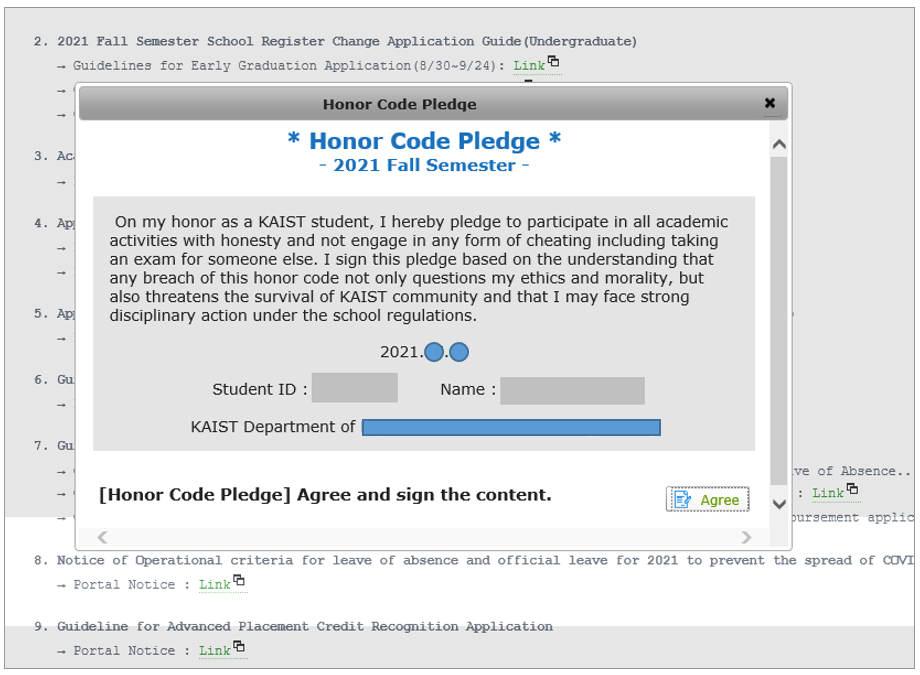 You will be asked to agree to the pledge online once, and if you do not agree, the pop-up window will appear repeatedly.
The Honor Code pledge will be implemented once every semester from 10 days before the start date of course registration to the end of the course add/drop period. Please refer to the portal notice regarding course registration as well.
* 2021 Fall Semester Course Registration Guide
: https://portal.kaist.ac.kr/ennotice/lecture_academic_paper/11626680009426
Inquiries: Academic Registrar's Team, Office of Academic Affairs (E-mail: registrar@kaist.ac.kr)