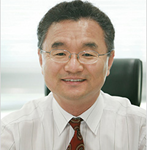 [Prof. Yong Man Ro picture]
Prof. Yong Man Ro has been elected as a Technical Committee (TC) member of IEEE Signal Processing Society (SPS).
After being elected the first term in 2019, Professor Ro is elected for his second term.
He will serve on the IVMSP (Image Video Multidimentional Signal processing) committee by 2025.
The IEEE Signal Processing IVMSP Technical Committee leads the IEEE Trans Image processing journal and International conferences on Image Processing (ICIP), IVMSP-related areas at The International Conference on Acoustics, Speech,
& Signal Processing (ICASSP) (leadership for the technical programs for ICIP and for the IVMSP-related areas at ICASSP).
In the near future, he expects that the research activities of the signal processing group in EE would become more internationally connected with IEEE SPS activities such as conferences, workshops and special sessions.