Title: KAIST Prof. Sung-Yool Choi recognized with the Prime Minister's Commendation Award for Industrial Contribution in 2021

[Prof. Sung-Yool Choi]
KAIST EE Professor Sung-Yool Choi has received the Prime Minister's Commendation Award for Industrial Contributions on material components/equipments. The commendation was given at the award ceremony for the Materials, Components, Equipments and Basic(Root) Industry Tech Inside Show which was held 13th ~ 15th Oct. at KINTEX in Ilsan.
The Industrial Contribution Merit Award for Material Equipment is given to those who have contributed to the development and innovation of material components / equipments (abbreviated as MCE from here on), and have played a significant role in the establishment, implementation, and resolution of pending issues on fostering MCE policies.
Appointed as the head of the technical advisor team from KAIST in 2019, Professor Sung-Yool Choi has been striving to establish the corporate support cooperation system and create policies to strengthen the industrial competitiveness of MCE.
The technical advisor team, comprised of 155 faculty members of KAIST with Prof. Sung-Yool Choi as the leader, has been providing preemptive, omnidirectional, and full-cycle technical advice on technical difficulties faced by MCE corporations. The team was launched as the first advisory organization dedicated to industrial technology in Korea to provide a means of direct, active response small businesses affected by Japan's export regulations and whitelist exclusion policies. Since its inception, the team has provided more than 100 advice sessions to 75 companies.
Prof. Sung-Yool Choi remarks "I consider this award not as a symbol of personal achievement, but rather a culmination of efforts made possible by various faculty and members of KAIST who have actively participated in the technical advisor team. I give my sincere thanks and make more efforts to help small Korean businesses to become industry-leading global companies,"
KAIST EE Professor Yoon, Young-Gyu's team won the MICCAI Young Scientist Award

[(From left) Professor Yoon, Young-Gyu, Changyeop Shin, Hyun Ryu, Eun-Seo Cho]
Prof. Yoon, Young-Gyu 's team from the School of Electrical Engineering has been selected as the recipient of the Young Scientist Award from the International Conference on Medical Image Computing and Computer Assisted Intervention (MICCAI), 2021.
The Young Scientist Award is an award given to the most excellent paper published at the MICCAI conference, a renowned international academic conference in the field of medical image processing, written by a lead author who is either a student or within two years of receiving a doctorate. This is the first time in Korea to receive this award.
Changyeop Shin (current M.S. student) and Hyun Ryu (current B.S. student) are co-lead authors, and Eun-Seo Cho (current Ph.D. student) is co-author, the following paper won the award: "RLP-Net: A Recursive Light Propagation Network for 3-D Virtual Refocusing," International Conference on Medical Image Computing and Computer Assisted Intervention (MICCAI), 2021.
This paper is about a virtual refocusing technique that restores a three-dimensional image using only two microscope images. The research has shown that accurate virtual refocusing is possible by approximating the light propagation function using a recursive neural network, paying attention to the fact that the light propagation process has spatial invariance.
The award ceremony was held at the 2021 MICCAI Conference, which was held virtually due to the COVID-19 situation. The list of winners will be permanently posted on the MICCAI conference website.

[Explanatory diagram of research results, a figure showing the propagation of light as a recursive function, paying attention to the spatial invariance of the light propagation process]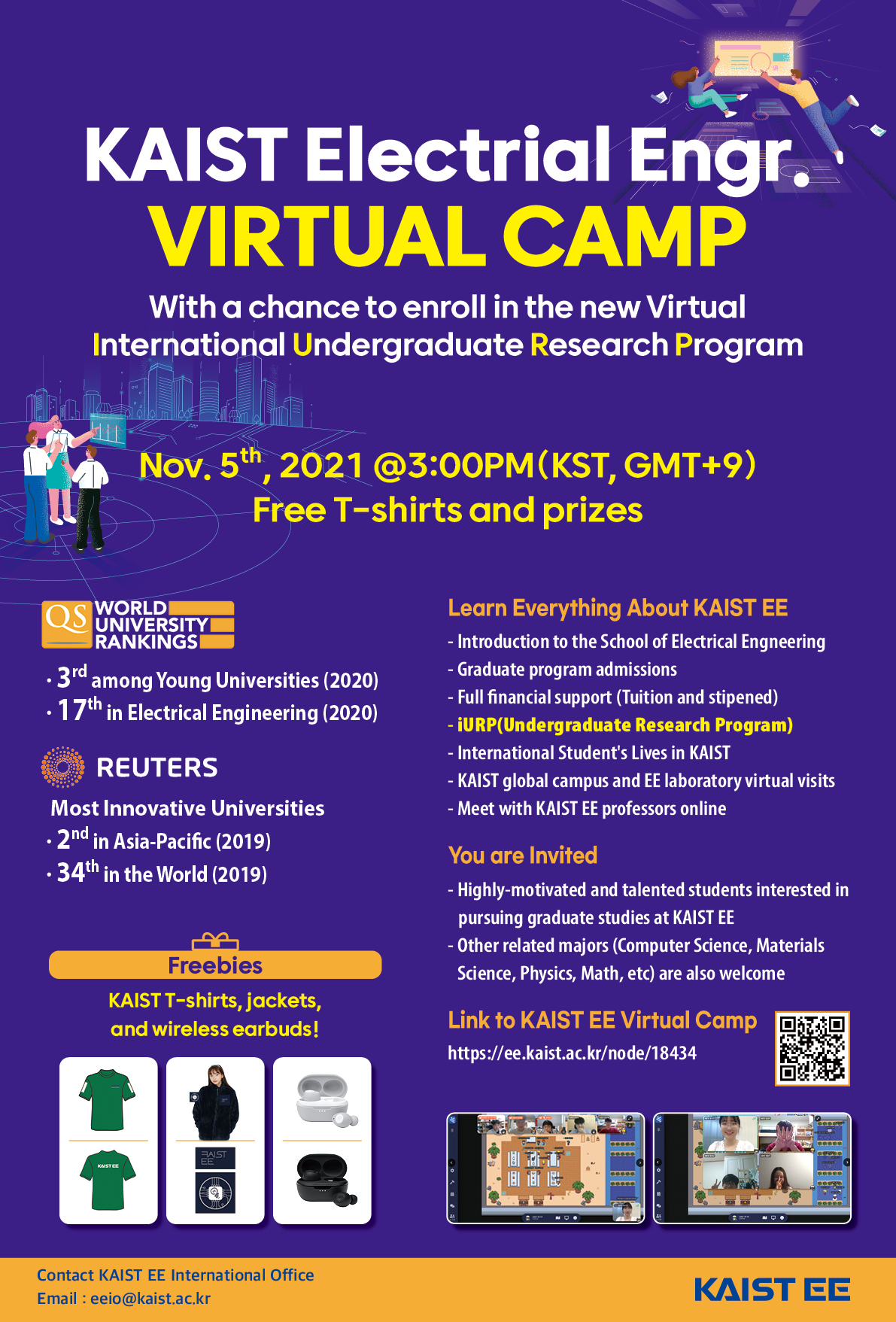 KAIST EE Virtual CAMP
You can join KAIST EE Virtual camp ceremony through the address below.
KAIST EE offer international students abroad to participate an iURP project with EE faculty.(See the attached in details)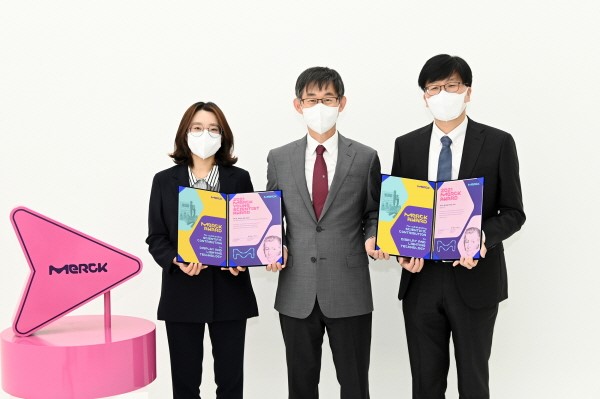 EE Prof. Seunghyup Yoo, wins the Merck Award at the 2021 International Meeting on Information Display (IMID 2021)
Professor Seunghyup Yoo of our EE Faculty was honored with the Merck Award at the International Meeting on Information Display (IMID) 2021 held at COEX, Seoul from August 25 to 27.
The Merck Awards have been given at IMID hosted by the Korean Information Display Society (KIDS) since 2004, the 100th anniversary of Merck's liquid crystal research. To encourage innovative and excellent research and development in the display field, this award has been given to selected researchers with outstanding achievements in display technology.
Professor Seunghyup Yoo has achieved excellent research results with academic depth and industrial impact in the fields of displays and lighting devices based on organic light-emitting diodes (OLEDs) as well as flexible and wearable electronics. In particular, he conducted systematic research to achieve the ultimate efficiency of OLEDs, which includes the result such as bringing the efficiency of OLED to the level of state-of-the-art inorganic LEDs. Recently, he is pioneering a new field in which wearable IT, optical technology, and medical technology are converged to expand the application fields of OLEDs and organic electronic devices to healthcare. He has also been contributing to the international societies such as the Korea Information Display Society (KIDS) and the Optical Society of America (OSA) for advance and spread of display technologies.
Meanwhile, Merck held an online meeting called Merck Science Connect in line with IMID 2021, and "The power of displaying, as an interface" can be viewed at the following link, in which Professor Seunghyup Yoo participated as a panel.
(link) https://youtu.be/HYwvUjMu_qo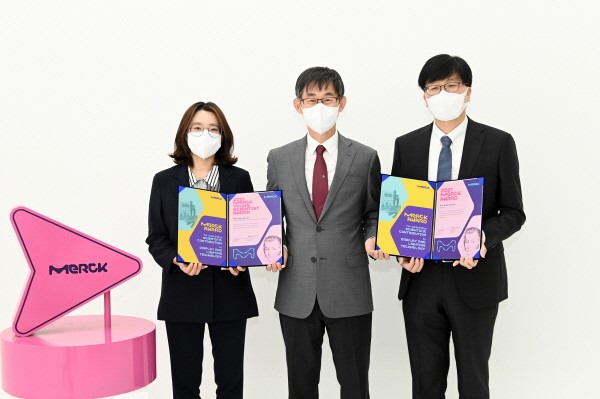 [2021 Merck Arawd (Prof.Seunghyup Yoo , KAIST) and Merch young scientists winners]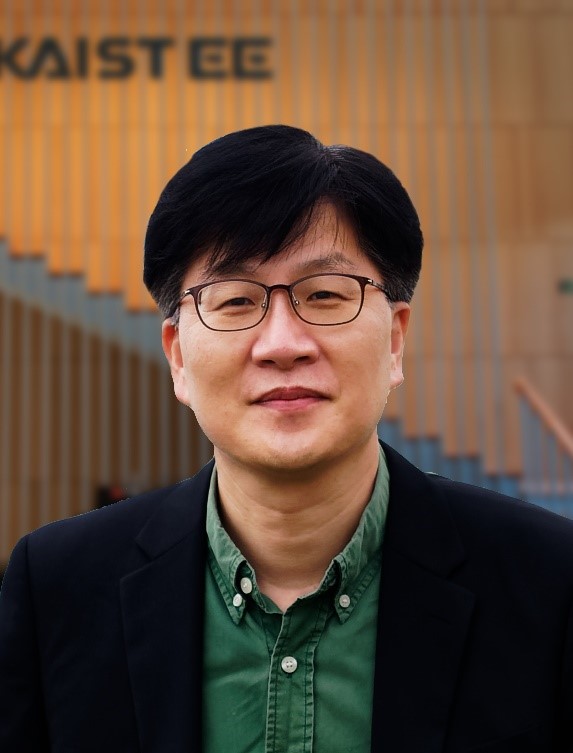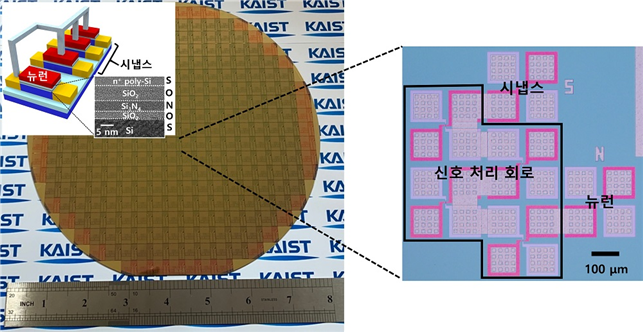 Brain-Inspired Highly Scalable Neuromorphic Hardware Presented
KAIST EE research team fabricated a brain-inspired highly scalable neuromorphic hardware by co-integrating single transistor neurons and synapses. Using standard silicon complementary metal-oxide-semiconductor (CMOS) technology, the neuromorphic hardware is expected to reduce chip cost and simplify fabrication procedures.
The research team led by Prof. Choi, Yang-Kyu and Prof. Choi, Sung-Yool produced a neurons and synapses based on single transistor for highly scalable neuromorphic hardware and showed the ability to recognize text and face images. This research was featured in Science Advances on August 4. (Co-integration of single transistor neurons and synapses by nanoscale CMOS fabrication for highly scalable neuromorphic hardware)
To solve the problems, the research team mimicked the behavior of biological neurons and synapses with a single transistor, and co-integrated them onto an 8-inch wafer. The manufactured neuromorphic transistors have the same structure as the transistors for memory and logic that are currently mass-produced. In addition, the neuromorphic transistors proved for the first time that they can be implemented with a 'Janus structure' that functions as both neuron and synapse, just like coins have heads and tails.
Based on the manufactured neuromorphic transistors, the research team mimicked some brain functions such as gain modulation and simultaneous detection, and showed that it is possible to recognize text images and face images.
The neuromorphic semiconductor developed by the research team is expected to contribute to accelerate the commercialization of neuromorphic hardware.
Links are provided below for more detailed information.
[Link]
https://news.kbs.co.kr/news/view.do?ncd=5249804&ref=A (KBS News)
https://science.ytn.co.kr/program/program_view.php?s_mcd=0082&s_hcd=&key=202108051614409475 (YTN Science News)
https://www.etnews.com/20210805000099(ET News)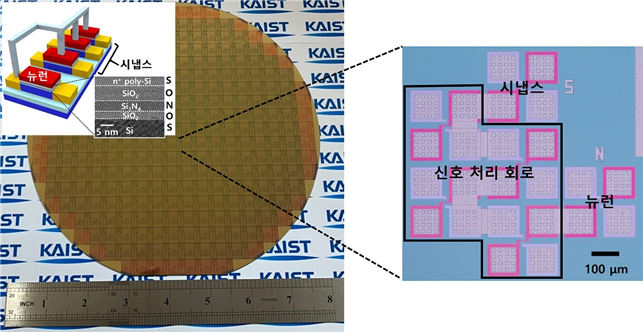 [Neuromorphic Hardware Presented]

[EE research team/ Prof. Choi, Yang-Kyu /Choi, Sung-Yool, Phd Han, Junk-Kyu/Oh,Jungyeop]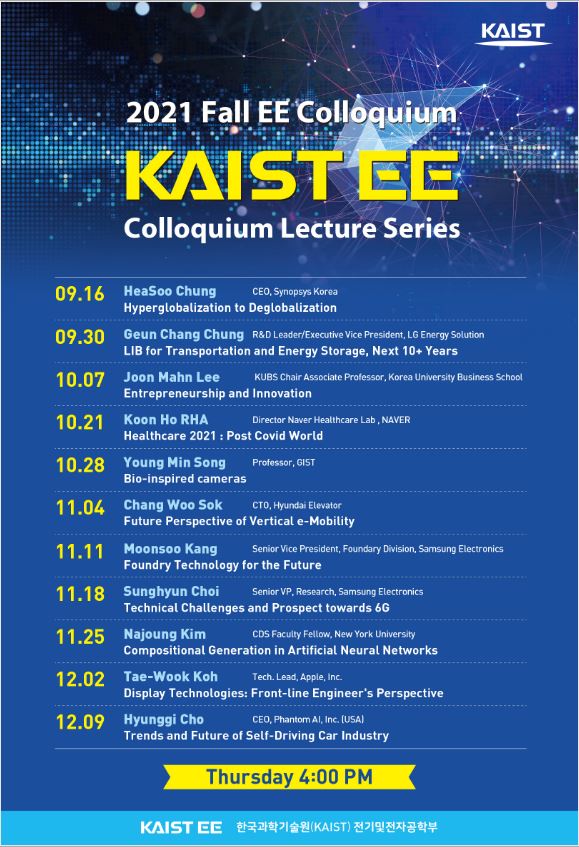 Classes will be offered online until further notice.
* Please note that this schedule is subject to change under certain circumstances.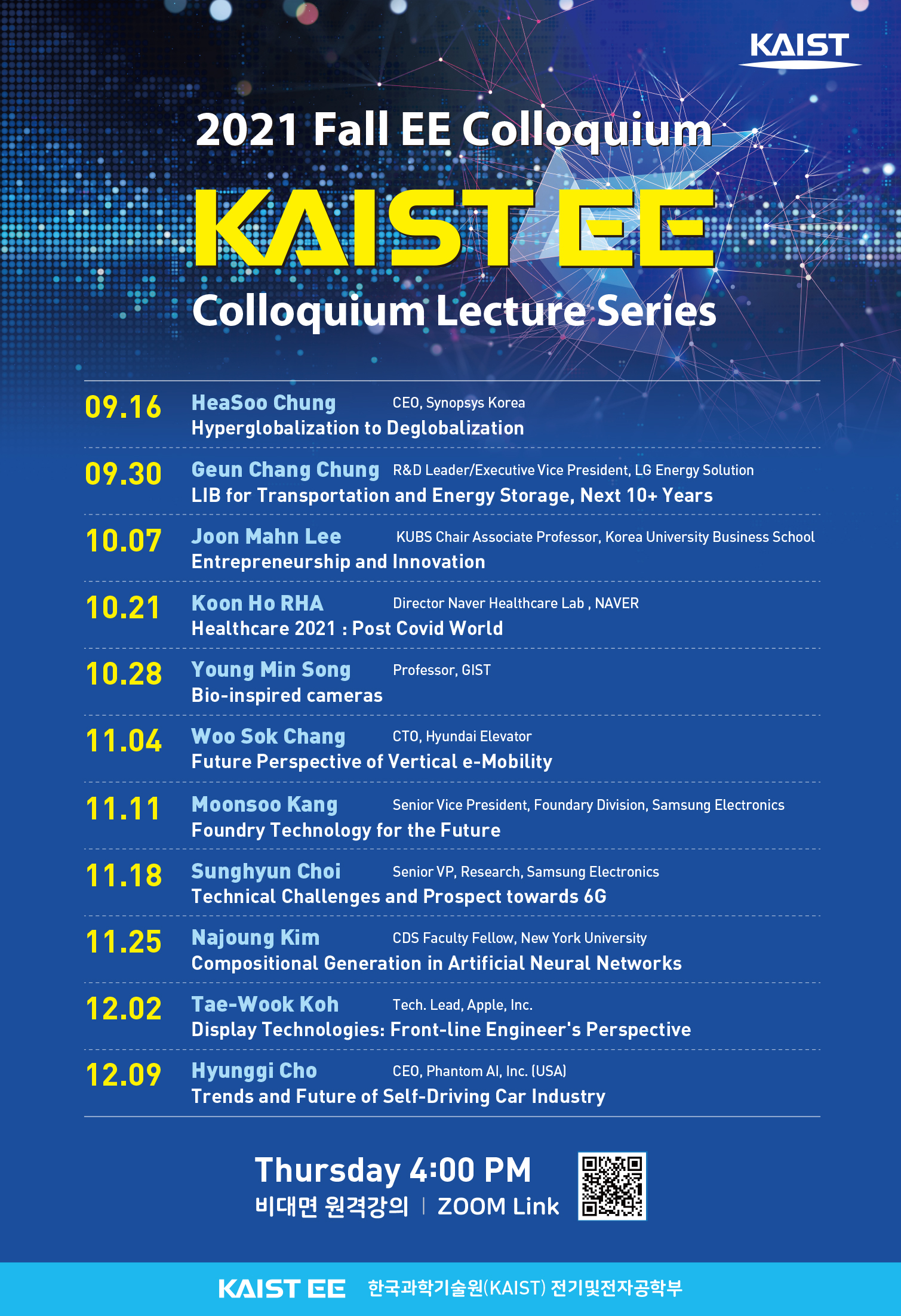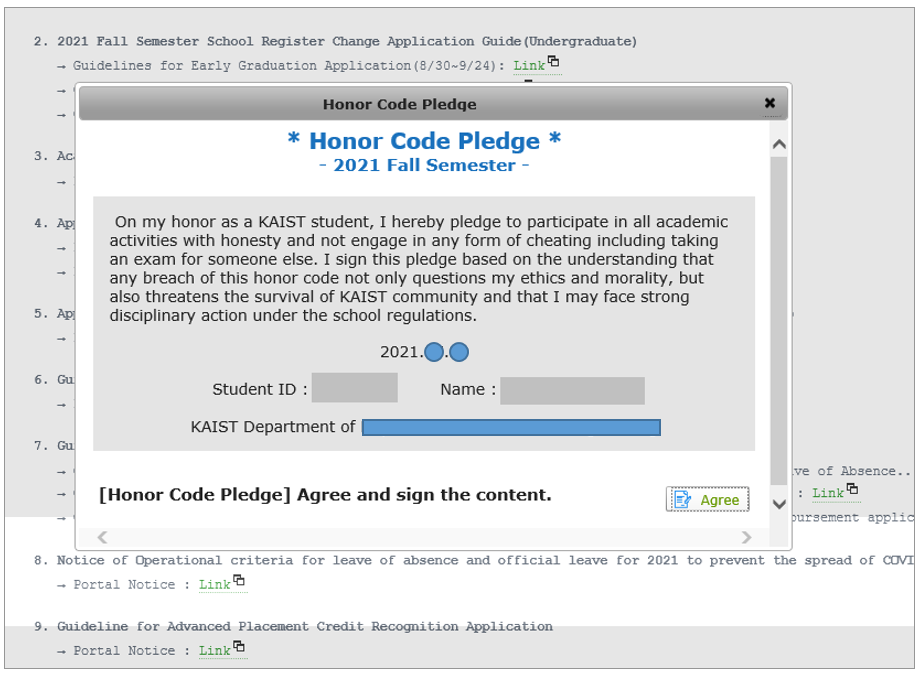 [Honor Code Pledge] Implementation Guide
We would like to inform you that the Honor Code pledge will be implemented for students who register for courses from the fall semester of 2021.
The Honor Code pledge is a pledge to keep the rules of honor to enhance the sense of ethics and responsibility. From July 30th(Fri), current/matriculating students and students on leave of absence will see the following pop-up when accessing the main screen of the academic system.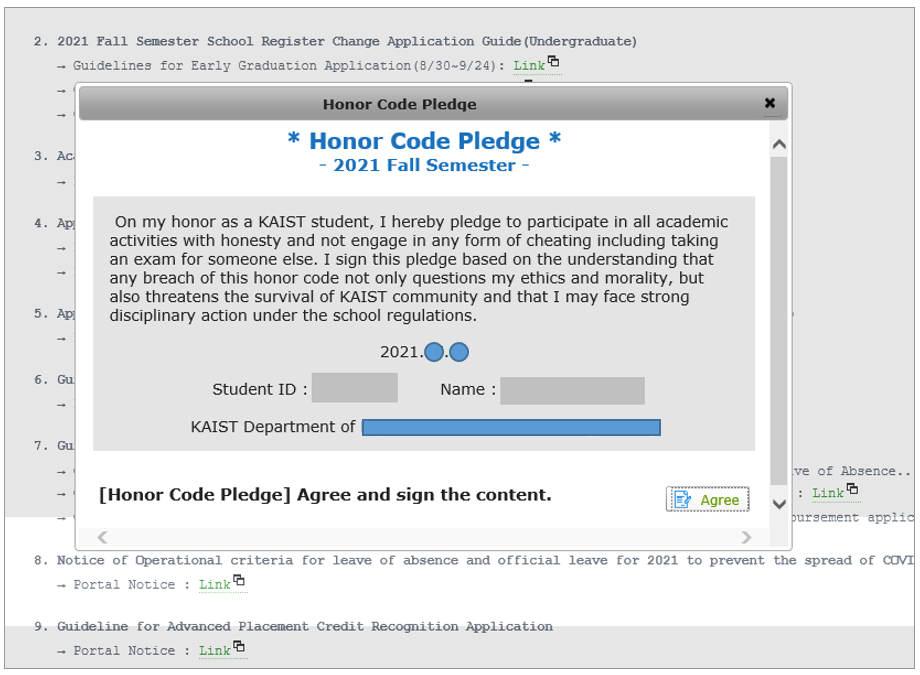 You will be asked to agree to the pledge online once, and if you do not agree, the pop-up window will appear repeatedly.
The Honor Code pledge will be implemented once every semester from 10 days before the start date of course registration to the end of the course add/drop period. Please refer to the portal notice regarding course registration as well.
* 2021 Fall Semester Course Registration Guide
: https://portal.kaist.ac.kr/ennotice/lecture_academic_paper/11626680009426
Inquiries: Academic Registrar's Team, Office of Academic Affairs (E-mail: registrar@kaist.ac.kr)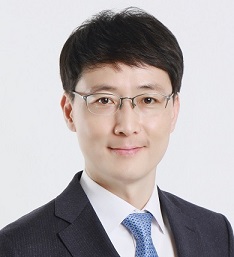 EE Professor. Jun-Bo Yoon's lab from the School of Electrical Engineering KAIST selected as the healthy lab of the year by the National Research Foundation
The selection of healthy lab of the year, which marks its second anniversary this year, aims to discover, encourage, and spread a healthy culture by finding excellent examples of science and technology labs in Korea to create a desirable graduate laboratory culture and establish research ethics. The National Research foundation selected 3DMNSL Lab for its unique and good cultures that are in line with the purpose of the project after Kim Bum Joon applied. The lab received an award from the Minister of Science and ICT, a certified signboard, a logo, and 10 million KRW.
3D Micro-Nano Structures Laboratory received the award for its distinctive culture, horizontal and respectful culture, and good research performance.
1) Graduate students rather than the professor selects the new students (Graduate students spend more time together)
2) Continous efforts are made to maintain a good culture and improve the weakness through professor evaluation and lab evaluation (The graduate students
anonymously evaluated the professor and the lab)
3) Encourage students to focus on research by improving student welfare
4) Establishing a system to refer to all materials of graduates and students through an FTP server
Professor. Jun-Bo Yoon created the course Technical Writing to help graduate students in various fields including writing effective thesis papers, research ethics since 2005. The course introduces a good example of an ideal life in graduate schools and is evaluated to be a mandatory course for its great message. Professor Yoon commented that "I was also asked whether the students were also actually healthy." The professor also added, "I hope that other excellent labs can also apply through this opportunity."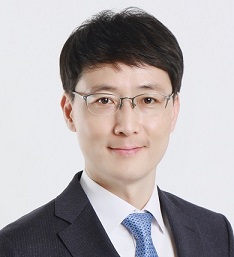 Professor. Junhyuk Kang, chair of School of EE, commented that he is happy that professor Yoon's lab was selected among the 10 healthy labs selected and praised Professor Yoon and his students for introducing an exemplary culture to the entire department.