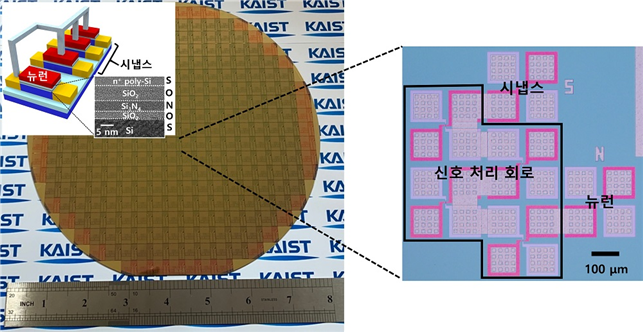 Brain-Inspired Highly Scalable Neuromorphic Hardware Presented
KAIST EE research team fabricated a brain-inspired highly scalable neuromorphic hardware by co-integrating single transistor neurons and synapses. Using standard silicon complementary metal-oxide-semiconductor (CMOS) technology, the neuromorphic hardware is expected to reduce chip cost and simplify fabrication procedures.
The research team led by Prof. Choi, Yang-Kyu and Prof. Choi, Sung-Yool produced a neurons and synapses based on single transistor for highly scalable neuromorphic hardware and showed the ability to recognize text and face images. This research was featured in Science Advances on August 4. (Co-integration of single transistor neurons and synapses by nanoscale CMOS fabrication for highly scalable neuromorphic hardware)
To solve the problems, the research team mimicked the behavior of biological neurons and synapses with a single transistor, and co-integrated them onto an 8-inch wafer. The manufactured neuromorphic transistors have the same structure as the transistors for memory and logic that are currently mass-produced. In addition, the neuromorphic transistors proved for the first time that they can be implemented with a 'Janus structure' that functions as both neuron and synapse, just like coins have heads and tails.
Based on the manufactured neuromorphic transistors, the research team mimicked some brain functions such as gain modulation and simultaneous detection, and showed that it is possible to recognize text images and face images.
The neuromorphic semiconductor developed by the research team is expected to contribute to accelerate the commercialization of neuromorphic hardware.
Links are provided below for more detailed information.
[Link]
https://news.kbs.co.kr/news/view.do?ncd=5249804&ref=A (KBS News)
https://science.ytn.co.kr/program/program_view.php?s_mcd=0082&s_hcd=&key=202108051614409475 (YTN Science News)
https://www.etnews.com/20210805000099(ET News)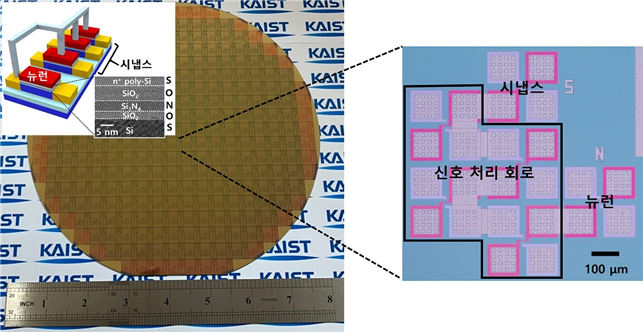 [Neuromorphic Hardware Presented]

[EE research team/ Prof. Choi, Yang-Kyu /Choi, Sung-Yool, Phd Han, Junk-Kyu/Oh,Jungyeop]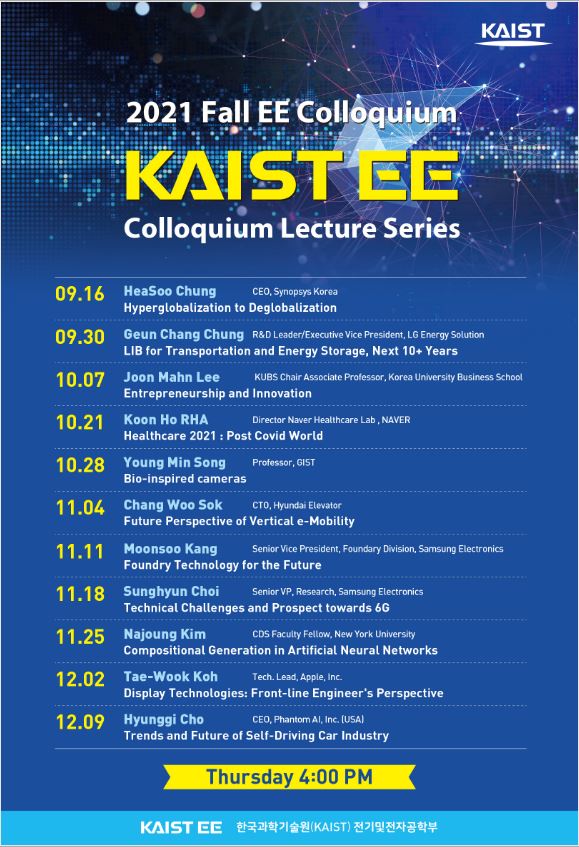 Classes will be offered online until further notice.
* Please note that this schedule is subject to change under certain circumstances.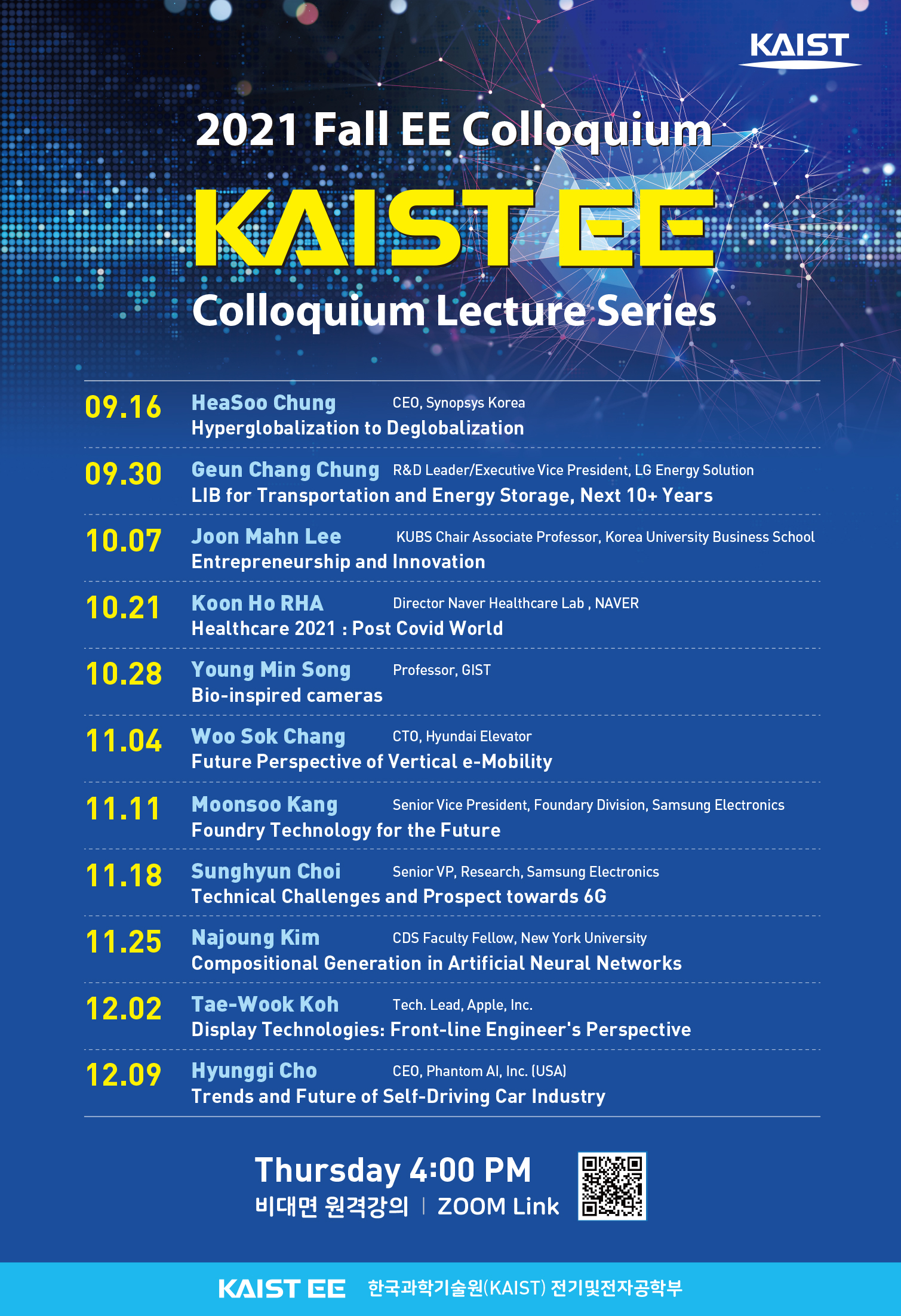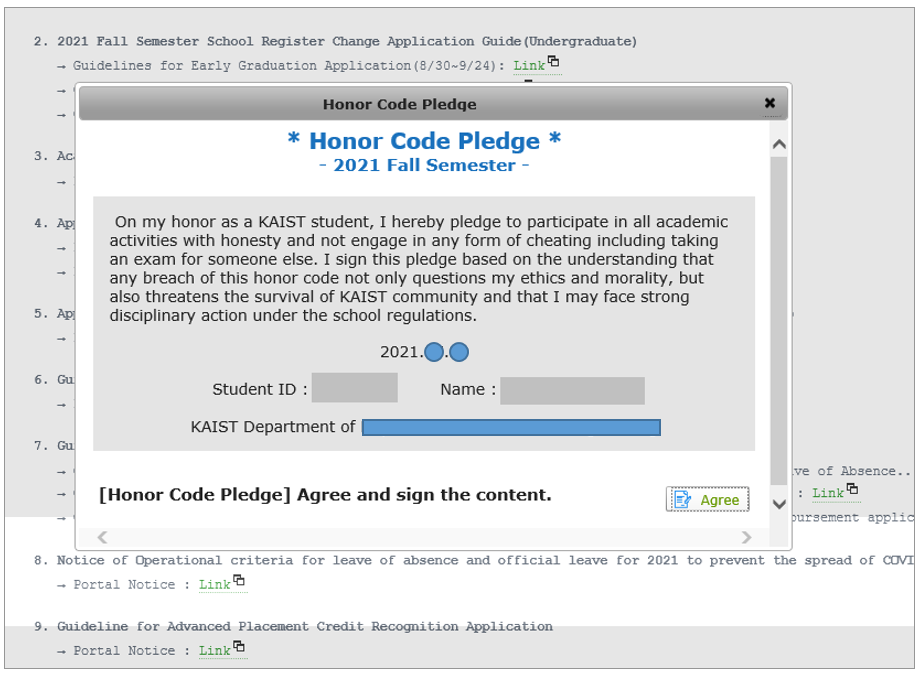 [Honor Code Pledge] Implementation Guide
We would like to inform you that the Honor Code pledge will be implemented for students who register for courses from the fall semester of 2021.
The Honor Code pledge is a pledge to keep the rules of honor to enhance the sense of ethics and responsibility. From July 30th(Fri), current/matriculating students and students on leave of absence will see the following pop-up when accessing the main screen of the academic system.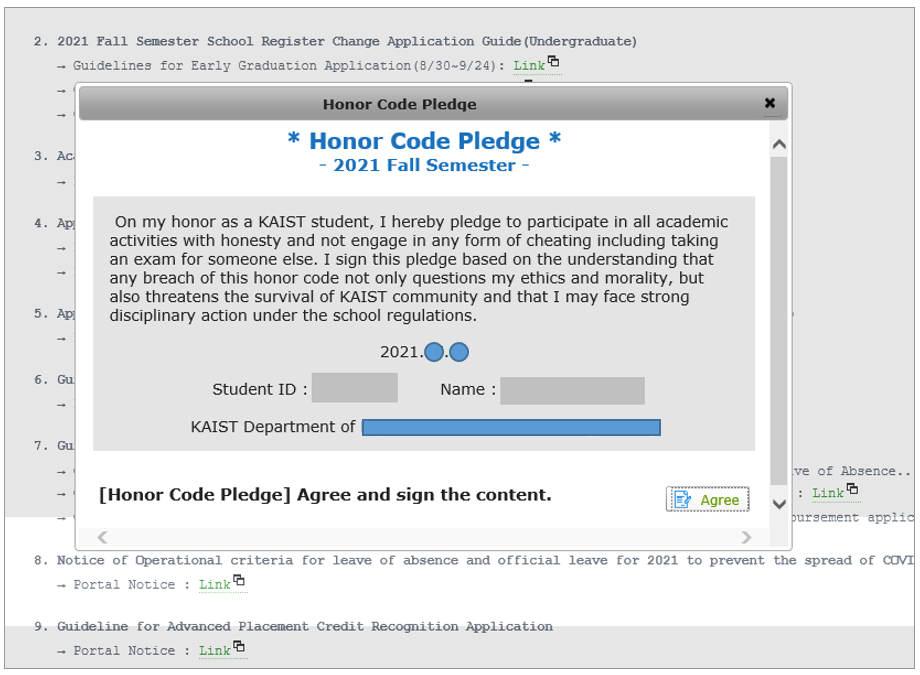 You will be asked to agree to the pledge online once, and if you do not agree, the pop-up window will appear repeatedly.
The Honor Code pledge will be implemented once every semester from 10 days before the start date of course registration to the end of the course add/drop period. Please refer to the portal notice regarding course registration as well.
* 2021 Fall Semester Course Registration Guide
: https://portal.kaist.ac.kr/ennotice/lecture_academic_paper/11626680009426
Inquiries: Academic Registrar's Team, Office of Academic Affairs (E-mail: registrar@kaist.ac.kr)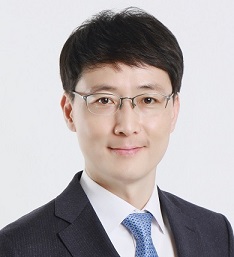 EE Professor. Jun-Bo Yoon's lab from the School of Electrical Engineering KAIST selected as the healthy lab of the year by the National Research Foundation
The selection of healthy lab of the year, which marks its second anniversary this year, aims to discover, encourage, and spread a healthy culture by finding excellent examples of science and technology labs in Korea to create a desirable graduate laboratory culture and establish research ethics. The National Research foundation selected 3DMNSL Lab for its unique and good cultures that are in line with the purpose of the project after Kim Bum Joon applied. The lab received an award from the Minister of Science and ICT, a certified signboard, a logo, and 10 million KRW.
3D Micro-Nano Structures Laboratory received the award for its distinctive culture, horizontal and respectful culture, and good research performance.
1) Graduate students rather than the professor selects the new students (Graduate students spend more time together)
2) Continous efforts are made to maintain a good culture and improve the weakness through professor evaluation and lab evaluation (The graduate students
anonymously evaluated the professor and the lab)
3) Encourage students to focus on research by improving student welfare
4) Establishing a system to refer to all materials of graduates and students through an FTP server
Professor. Jun-Bo Yoon created the course Technical Writing to help graduate students in various fields including writing effective thesis papers, research ethics since 2005. The course introduces a good example of an ideal life in graduate schools and is evaluated to be a mandatory course for its great message. Professor Yoon commented that "I was also asked whether the students were also actually healthy." The professor also added, "I hope that other excellent labs can also apply through this opportunity."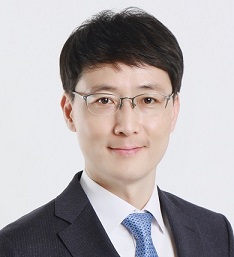 Professor. Junhyuk Kang, chair of School of EE, commented that he is happy that professor Yoon's lab was selected among the 10 healthy labs selected and praised Professor Yoon and his students for introducing an exemplary culture to the entire department.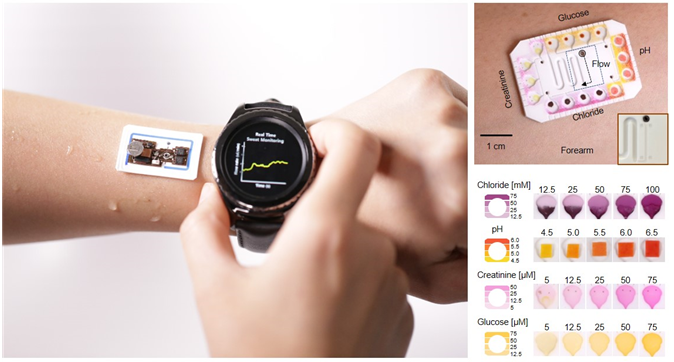 Professor Kyeong-Ha Kwon of KAIST EE and Ph. D student Jong-Wook Kim (Advised by Tae-Il Kim) of School of Chemical Engineering (Sungkyunkwan University) have developed a wireless electronic patch that measures the volumetric flow rate and total loss of sweat in real-time.
Sweat is a biological fluid that can be collected non-invasively and offers the obvious advantage of being easier to collect compared to invasive blood collection. Accordingly, there is an increasing demand for wearable technology that can provide real-time sweat collection and component analysis in daily life.
It is possible to collect various biomarkers using the discoloration reaction of sweat and chemical reagents. Still, it is essential to measure the flow rate and total loss of sweat in real-time for accurate measurement (color development). Accordingly, the research team developed a wearable wireless electronic patch capable of quantitatively measuring the speed and volume of sweat and integrated it with a microfluidic system capable of analyzing sweat components using a discoloration reaction. As a result, the research team succeeded for the first time in simultaneously measuring chloride, glucose, and creatine concentrations, hydrogen ion index (pH), and volumetric flow rate in sweat. The measured index can be used to diagnose cystic fibrosis, diabetes, kidney dysfunction, and metabolic alkalosis.
The research team placed a low-power heat source on the outer wall of a short, sophisticated microfluidic channel where sweat was collected to induce sweat and heat exchange through the channel. Focusing on the increase in the temperature difference between the downstream and the upstream of the heat source as the sweat flow rate increases, the precise relationship between the difference between the upstream and downstream temperatures and the sweat discharge rate was investigated. As a result, it succeeded in accurately measuring the perspiration rate in the range of 0 to 5 microliters/minute (μl/min), which is considered to be physiologically meaningful. Data measured with the wearable patch can be checked in real-time through a smartphone app capable of Bluetooth communication.
The developed patch can be used extensively for individual post-exercise hydration, detection of dehydration symptoms, and other health care. In addition, it is used in places where flow rate measurement is important in the body, such as measuring the blood flow rate in blood vessels located near the skin. It is also expected to develop into various applications, such as a systematic drug delivery system that can check the release rate of drugs in real-time and calculate the correct dosage.
This research, in which Professor Kyeong-Ha Kwon participated as the first author, was published in the international journal 'Nature Electronics' on March 29th. (Paper name: An on-skin platform for wireless monitoring of flow rate, cumulative loss, and temperature of sweat in real-time).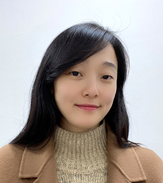 Professor Kyeong-Ha Kwon, Department of Electrical and Electronic Engineering, KAIST
Researcher Jong-Wook Kim, Department of Chemical Engineering, Sungkyunkwan University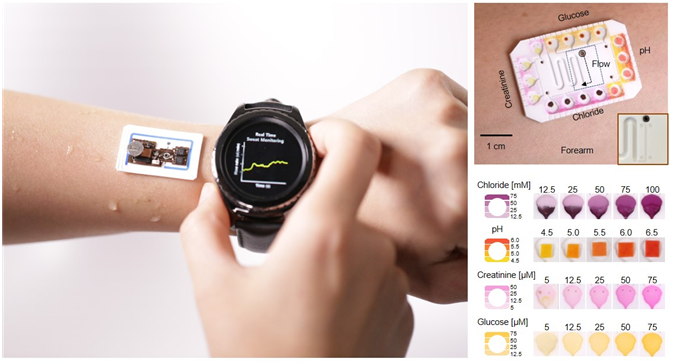 link : https://www.etnews.com/20210506000134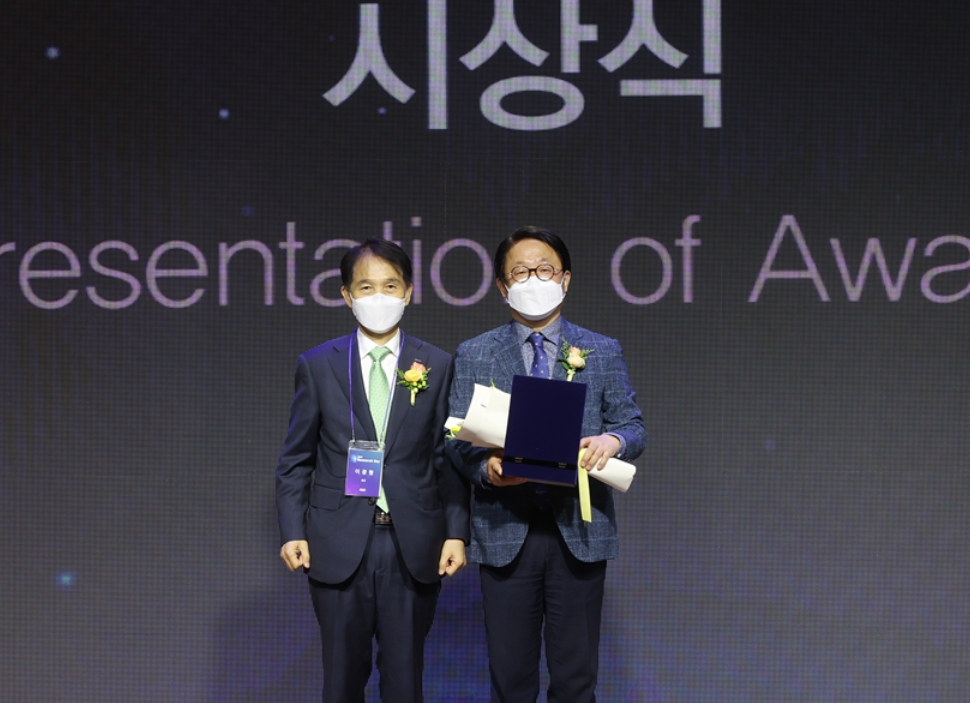 Professor Munchurl Kim is Awarded Research Grand Award for 2021 KAIST Research Day
On the past 25th of May, our department's professor Munchurl Kim was awarded the Grand Award for the 2021 KAIST Research Day. Professor Changho Suh and
Professor Hoi-Jun Yu were also selected for the top 10 R&D research achievements along with various other achievements being introduced in the press.
Professor Kim's research was highly recognized for AI based methods of enhancing low resolution video to high resolution quality video and has greatly contributed to video and resolution restoration in the field of AI.
We congratulate our department's students and professors for their research and awards.
Website link : https://www.etnews.com/20210525000246
http://www.kyosu.net/news/articleView.html?idxno=67974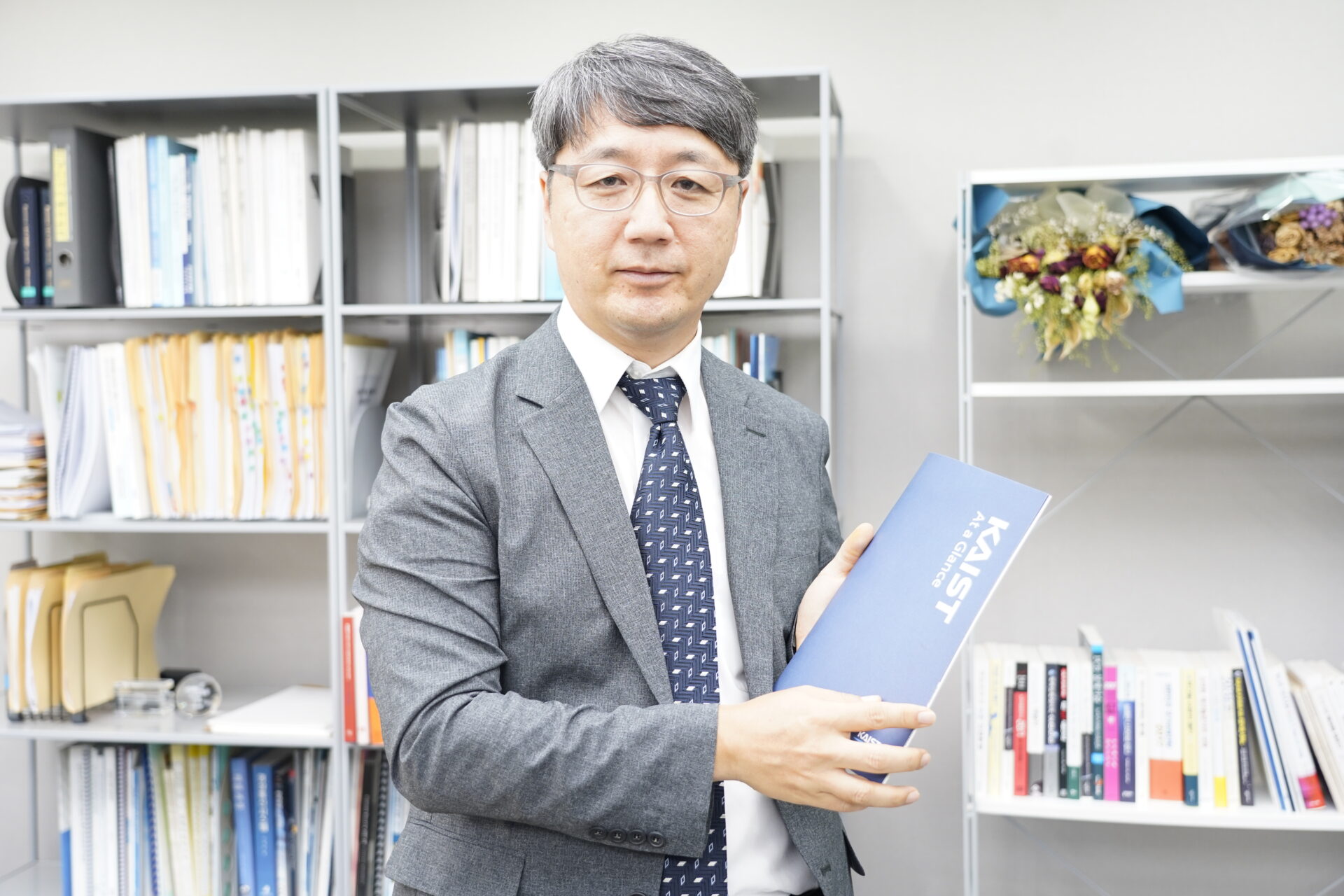 KAIST School of EE Introduces ARS System
KAIST School of Electrical Engineering (Head Joonhyuk Kang) has introduced an automated telephone service ARS system to increase accessibility of via phone calls for internal and external customers.
Most of the EE department related issues can be guided throughout the ARS representative number 042-350-3411, and a button-type ARS menu selection system can be utilized for connecting to specific issue (undergraduate, graduate school, admission, donation) related staff members. Along with the recently introduced ARS system, the department has also introduced the chatbot system last February for more convenient administrative support.
Head of EE Professor Kang mentioned that the ARS system along with the chatbot service system was introduced for automated and more convenient customer support in the digital era. Active participation and feedback are always welcomed, Prof. Kang said.
We appreciate your much usage of the homepage EE chatbot and the wired ARS system.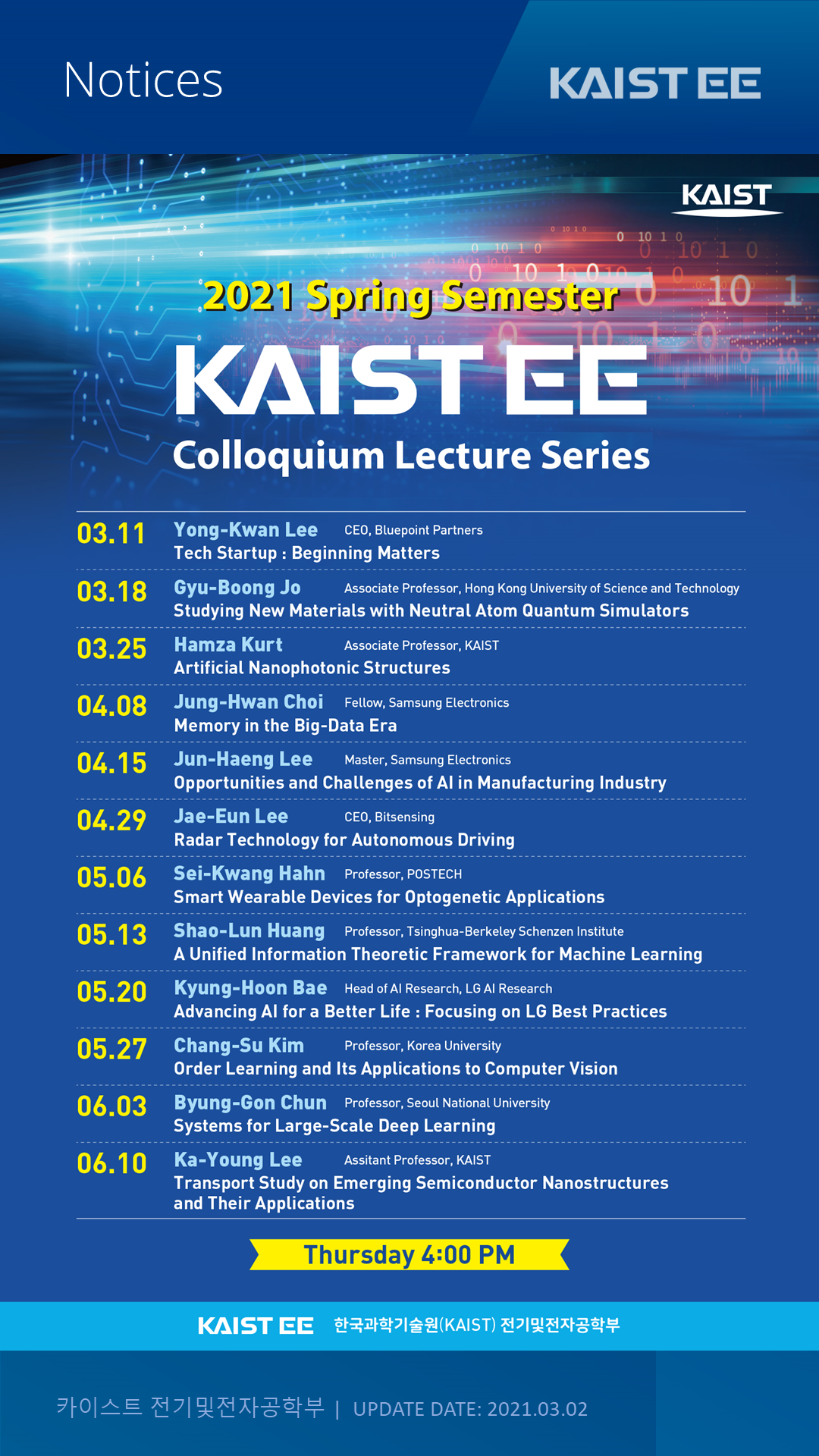 Classes will be offered online until further notice.
* Please note that this schedule is subject to change under certain circumstances.