KAIST EE Prof. Sung-Ju Lee's team, Best Paper Award and the Methods Recognition Award from ACM CSCW

[Research team picture : Prof. Lee Sung-Ju, Prof. Eun Kyoung, Choe Hyunsung Cho, Daeun Choi, Donghwi Kim, Wan Ju Kang, from left]
The research team led by Prof. Sung-Ju Lee of KAIST has won the Best Paper Award and the Methods Recognition Award from ACM CSCW (International Conference on Computer-Supported Cooperative Work and Social Computing) 2021 for their paper "Reflect, not Regret: Understanding Regretful Smartphone Use with App Feature-Level Analysis".
Founded in 1986, CSCW has been a premier conference on HCI (Human Computer Interaction) and Social Computing. This year, 340 full papers are presented and the best paper awards are given to top 1% papers among all submissions. Methods Recognition, which is a new award, is given to papers "for strong examples of work that includes well developed, explained, or implemented methods, and/or methodological innovation."
Hyunsung Cho (KAIST alumus and currently a PhD candidate at Carnegie Mellon University), Daeun Choi (KAIST undergraduate researcher), Donghwi Kim (KAIST PhD Candidate), Wan Ju Kang (KAIST PhD Candidate), and Professor Eun Kyoung Choe (University of Maryland) collaborated and contributed to this research.
The authors developed a tool that tracks and analyzes which feature of a mobile app (e.g., Instagram's following post, following story, recommended post, post upload, direct messaging, etc.) is in use based on the smartphone User Interface (UI) layout. Utilizing this novel method, the authors reveal which feature usage patterns result in regretful smartphone use.
Prof. Lee said that "Although many people enjoy the benefits of smartphones, issues have emerged from the overuse of smartphones. With the feature level analysis, users can reflect their smartphone usage based on finer grained analysis and this could contribute to digital wellbeing."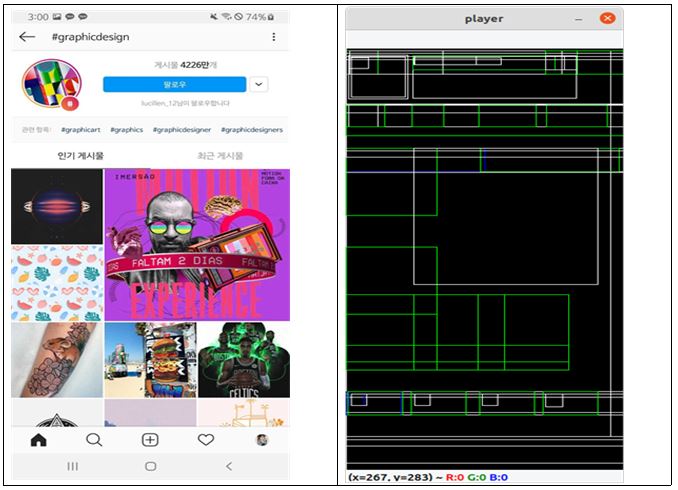 [Research achievements diagram : Application feature level usage analysis / UI LAYOUT Analysis]
This research was supported in part by the National Research Foundation of Korea (NRF) grant funded by the Ministry of Science and ICT (MSIT) of Korea.
​