Prof. Hyunchul Shim's team in school of EE won the grand prize at 2021 Hyundai Autonomous Challenge.
Many congratulations to the professor and his research team.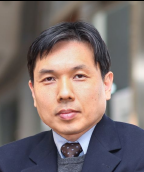 [Prof. Hyunchul Shim]
The autonomous car developed by Professor Shim's team(Team name : KI- ROBOTICS) won the grand prize at 2021 Hyundai Autonomous Challenge held around MBC square in Sang-am dong, Seoul.
In this year, the event was held on actual public roads in Sang-am dong, where the participating cars drive along the course simultaneously. This setup demanded more advanced autonomous driving technology ready for real roads
The winning vehicle attracted great attention as it only used LIDAR and cameras but not GPS, which is considered as one of the key ingredients for autonomous driving.
23 teams initially competed in the preliminary, and only five teams among those were selected as the finalists. Prof. Shim's team won 100 Million KRW and tickets to North America for educational travel.
Prof. Shim has prepared for this competition for last 17 months with Mr. Daegyu Lee, Ph.D. student and other team members in our department. In this event, their hard work has paid off to win the prestigious prize. Prof. Shim said he looks forward to applying this technology for many autonomous driving systems in near future.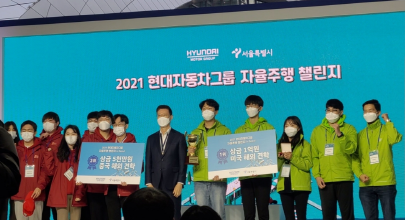 [The KAIST's research team ceremony picture]