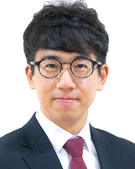 [Yonghwi Kwon, Ph.D. candidate]
EE Professor Youngsoo Shin's lab, Yonghwi Kwon, Ph.D. candidate student, is selected for the Nick Cobb Memorial Scholarship and going to receive a $10,000 scholarship.
School of EE send congratulations and thanks to Kwon Yonghwi and advisor professor Youngsoo Shin, who win a major award from a prominent academic journal in the World.
This award is sponsored by SPIE, the international society for optics and photonics (hereinafter referred to as SPIE) and Simens EDA, a renowned society in the field of optics. It was established to commemorate Nick Cobb's achievements who laid the groundwork for the field.
Student Yonghwi Kwon has published 7 papers (main authors for 4 paper) in SPIE, and most of these papers have been published in the field of lithography for semiconductor manufacturing.
Yonghwi Kwon started his study in Professor Youngsoo Shin's lab from undergraduate period, and was encouraged by advisor professor.
Prof. Shin delivered Kwon, a docorate candidate is a good student as serviced for lab leader for 2 years and half until last year with a good relationship with other members.
There are a lot to share with on the great lab culture as well as the excellent achievement.
For details, refer to the link below SPIE news
https://spie.org/news/yonghwi-kwon-named-as-2022-recipient-of-nick-cobb-memorial-scholarship