Prof. Hyunchul Shim's research team show excellent results at the CES 2022

Professor Hyunchul Shim's research team from our department placed fourth at the CES Autonomous Vehicle Competition in Las Vegas, USA last week.

We would like to congratulate the professor and research team for their excellent acheivement and KAIST spirit despite difficult circumstances.

Please, read the article summary and its link below for details.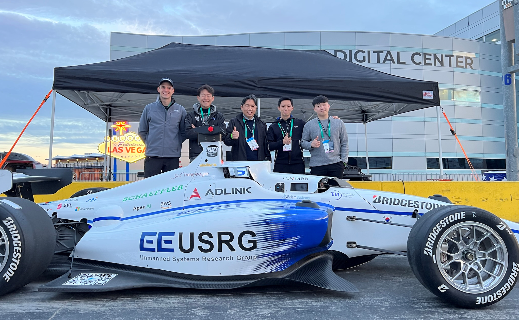 [Prof. Shim and research team]

Title: Autonomous driving at 227 km/h without racing driver, KAIST team in 4th.

A self-driving car built by EE Professor Hyunchul Shim's research team heated up the Las Vegas Motor Speedway at a speed of 227 km.

The team alone made an impression both at home and abroad by competing against the winning team in an international competition using the 5th stage of autonomous driving.

KAIST Team win and proceed semifinal game by passing ahead the Auburn university team from USA with 210 km/h speed. With narrow margin KAIST team failed by Polymove team (final match winner) from Italy.

This competition league is competed on 5th grade technology, the highest level of autonomous driving technology. Prof. Shim's team displayed 225 km/h automotive driving technology, integrated technology of highly advanced control and navigation for racing.

The excellent movement by Professor Hyunchul Shim's research team deeply moved KAIST spirit in many CES 2022 participants and promoted Korea's future mobility technology to the world.

The 3rd unmanned automotive racing game is planned to be hold in September 2022 and CES next year.

News in details, Hellodd newspaper

https://www.hellodd.com/news/articleView.html?idxno=95556

Video Data : KBS

https://news.kbs.co.kr/news/view.do?ncd=5369452&ref=A

ZDNet