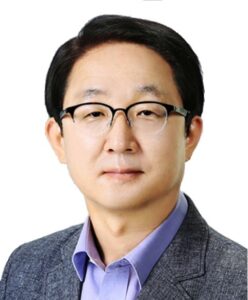 [Prof. Kim, Munchurl]
KAIST EE Prof. Kim, Munchurl and research team have won a 2022 IITP SW Star Lab initiative project as part of the Information, Communication, and Broadcast Technology Development Project by government.
The SW Star Lab initiative project aims to secure world-leading core technology as well as to nurture postgraduate talents and has named five labs this year, one for each of Big Data, Cloud, Algorithms, Applied SW, and Artificial Intelligence. Selected labs are to receive in support funding amounting to 2.4 billion KRW over eight years (roughly about 300 million KRW a year).
Prof. Kim's lab proposed the contract-winning study "Deep Learning-based Rendering of Spatial Video with Stationary and Dynamic Scenes". This study aims to design and implement neural networks capable of rendering super high-quality 3D spatial video based on multi-camera settings with the captured video data from any arbitrary position, viewpoint, distance, and trajectories within the 3D space.
A successful outcome of this study would be applicable in large-scale 3D spaces, such as when Son, Heung-min dribbles and sprints towards the goal at the World Cup Stadium, a close-up rendering of his own perspective could be aired just as with drones would broadcast an immersive experience.