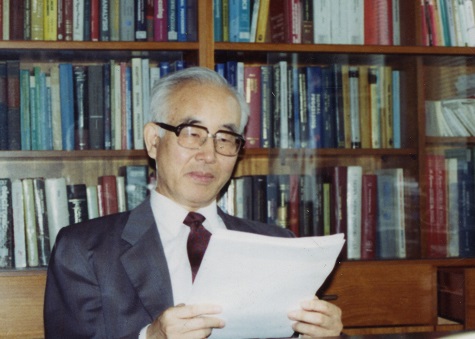 Park, Song-Bae
Biograph (1924-)
In the field of ultrasonic sound, Professor Park, Song-Bae was not only a unique person in Korea but also widely known internationally, and his research achievement had greatly enhanced Korea's position in this field.
Professor Park received B.S. degree in electrical engineering from Seoul National University, and received M.S. and Ph.D. degrees in electrical engineering from University of Minnesota, USA. Professor Park had been serving as a professor of electrical engineering at KAIST from 1973 to 1989 after serving as a professor at Seoul National University and Oregon State University. During his tenure, he served as the dean of student affairs, and in 1981, as a vice president of KAIST.
Professor Park had devoted himself to research on the circuit theory and ultrasound imaging, and especially he had made a great contribution to the foundation of KAIST and the Department of Electrical Engineering in KAIST. He had published 109 journals, 126 academic papers, 14 patent applications and 8 books, and had graduated 41 Ph.D. students and 102 M.S. students.
In the early 1980s, Professor Park had been focusing on the research on the ultrasonic imaging technique to deal with the rapid increase in imports of high-priced medical equipment from abroad. His research achievements on digital beamforming technique for improving resolution of ultrasonic image has become widely known throughout the world. In particular, he had conducted leading research in two areas: computer-aided circuit and system design and ultrasonic imaging. A total of 234 inventive papers were presented at national/international academic journals and conferences, and as a result, he received numerous awards including the 3rd Sejong Cultural Award, the National Medal of Peony, and the 10th Inchon Award.
Professor Park had devoted a great deal of effort not only to research but also to student education. In the mid-1970s, he had organized several industry-academy cooperative seminars and lectures in KAIST. He also tried to give students a lot of research opportunities by engaging in a large number of commissioned researches from industries. Through these efforts, people graduated from Professor Park's lab has created 15 venture companies and these companies now contribute greatly to industrial development in Korea. In particular, MEDISON Co., Ltd., a manufacturer of ultrasonic imaging devices, has been a leader in venture companies and has achieved a great success of over 300 billion won per year.
Professor Park had also contributed to the development of the various Institutes while serving as the chairman of the IEEE Korea Council, vice chairman of the Institute of Electronics and Information Engineers and the chairman of the Korean Society of Medical & Biological Engineering.
Professor Park, Song-bae, a world-renowned scholar in the field of ultrasound imaging, had made a great effort and contribution in all aspects of industry and academia both in and out of school. In the debate on the educational ideology of the early days of the KAIST, he emphasized the importance of raising great engineers for the industrial development. The great echo that Professor Park had left throughout his life is going to shine for a long time as a good example for our students.