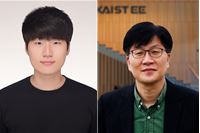 [ EE P.H.D candidate Dong-gyun Lee, Prof. Seung-hyeop Yoo, from left]
At the 2022 Advanced Photonics Congress held in July of this year, PhD candidate Dong-gyun Lee of Electrical Engineering department was awarded the Congress Student Paper Prize.
This conference is a global conference where leading researchers from around the world gather and share research on optical materials, optical signal processing, optical communications, and integrated optics. 
Based on rigorous mechano-optical analysis and using ultra-thin PI and elastomer arrays, Lee proposed a new method to increase the area ratio, which has been a bottleneck in stretchable organic light-emitting diode platforms.
For this contribution, he won the 2022 Advanced Photonics Congress Student Paper Prize by The Optical Devices and Materials for Solar Energy and Solid-state Lighting (PVLED) committee chair.