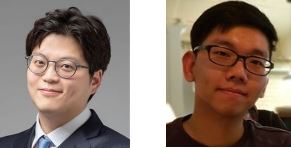 [Professor Song Min Kim and first author Kang Min Bae, from left to right]
On the 28th, School of EE professor Song Min Kim's research team has announced that they have succeeded in creating the world's first mmWave backscatter system for massive IoT connectivity.
The research, (OmniScatter: extreme sensitivity mmWave backscattering using commodity FMCW radar), led by Kang Min Bae as first author, was presented at ACM MobiSys 2022 this June, and was presented with the best paper award. This is meaningful as it marks the second consecutive year in which the best paper award was presented to a paper belonging to a research group at KAIST's School of Electrical Engineering.
The backscatter technology described by this research team can greatly reduce the maintenance cost as it operates on ultra-lower power of less than 10 μW, being able to run on a single battery for more than 40 years.
By enabling connectivity on a scale that far exceeds the network density required by next gen communication technologies such as 5G and 6G, this system may serve as a great potential for serving as a stepping stone for the upcoming hyperconnected era.
"mmWave backscattering is a dreamlike technology that can run IoT devices on a large scale, which can drive massive communications at ultra-low power compared to any other technology," said Professor Song Min Kim. "We hope that this technology will be actively used for the upcoming era of Internet of Things," he added.
The research was made possible by the funding from Samsung Future Technology Development Project and the Institute for Information & Communication Technology Planning & Evalution.


[Fig 1. Tags used for massive IoT communications (as depicted by red triangles). Over 1100 tags are able to communicate simultaneously without any conflicts]