M.S. Course Jiwon Choi (Prof. Hoi-Jun Yoo), won the Best Design Award at 2023 IEEE A-SSCC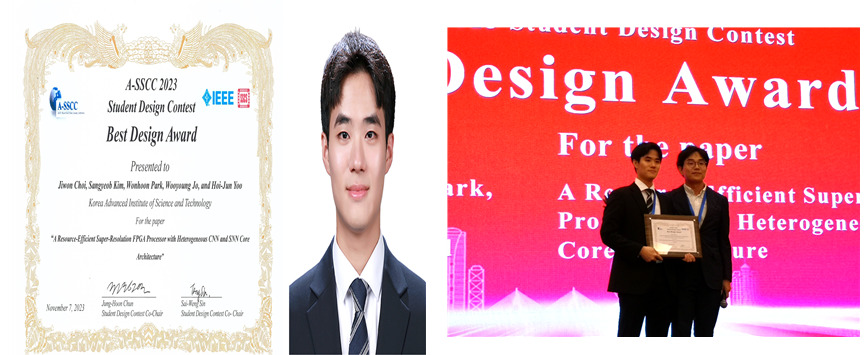 <Certificate of Award & Award Ceremony>
M.S. student Jiwon Choi (Advised by Hoi-Jun Yoo) won the Best Design Award at the 2023 IEEE Asian Solid-State Circuits Conference (A-SSCC) Student Design Contest.
The conference was held in Hainan, China from November 5th to 8th. A-SSCC is an international conference held annually by IEEE. M.S. student Jiwon Choi has published a paper titled "A Resource-Efficient Super-Resolution FPGA Processor with Heterogeneous CNN and SNN Core Architecture".
Details are as follows. 
Conference: 2023 IEEE Asian Solid-State Circuits Conference (A-SSCC)
Date: November 5-8, 2023
Award: Best Design Award
Authors: Jiwon Choi, Sangyeob Kim, Wonhoon Park, Wooyoung Jo, and Hoi-Jun Yoo (Advisory Professor)
Paper Title: A Resource-Efficient Super-Resolution FPGA Processor with Heterogeneous CNN and SNN Core Architecture