Professor Seungwon Shin's NSS Lab Wins a Total of 7 Awards in the 2023 Cybersecurity Paper Competition Sponsored by the National Intelligence Service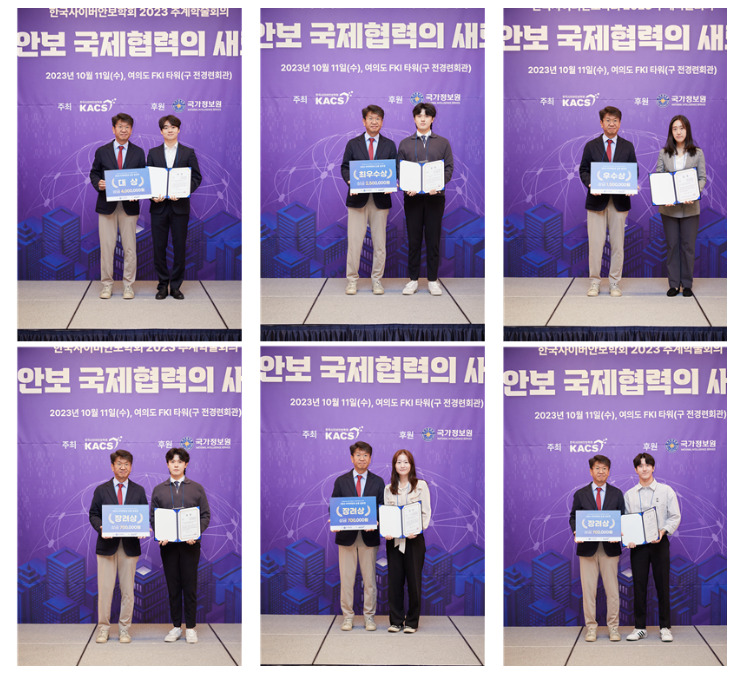 <From the upper left, Myeongseong Yoo, Jaehan Kim, Suhyun Kim, Minkyu Song, Hanna Kim, Jaehan Kim>
The research team (NSS lab) led by Professor Seungwon Shin from KAIST's Department of Electrical and Electronic Engineering has received a total of 7 awards in the 2023 Cybersecurity Paper Competition, including the top prize in the technology.
Starting in 2017, the competition is organized by National Intelligence Service to foster cybersecurity expertise and enhance research capabilities in cybersecurity.
Exceptional papers presented in previous editions of this competition have made significant contributions to national cybersecurity technology development, policy formulation, and strategy.
Professor Seungwon Shin's research team, including Ph.D. candidate Myeongseong Yoo from KAIST and Professor Jaehyun Nam from Dankook University, received the best paper award in technology section along with cash reward of 4 million KRW for their paper titled "HELIOS: Hardware-assisted High-performance Security Extension for Cloud," which focuses on a hardware-based network security system for a secure cloud environment.
Furthermore, a team consisting of Ph.D. candidates Jaehan Kim, Minkyu Song, and Youngjin Jin from Professor Shin's lab received the outstanding paper award in the technology section for their work on "Graph-based Deep Learning Framework for Credential Stuffing Risk Prediction," a framework that uses graph neural networks to proactively predict the risk of credential stuffing attacks between websites by modeling the reused password relationship.
In addition, students Suhyun Kim, Hanna Kim, Seungho Na, and Somin Cho from Professor Shin's research lab received one award and four honorable mentions in the technology section.
Myeongseong Yoo, a top prized student, mentioned that "The system we developed utilizes smartNIC to accelerate communication between virtual machines and containers. It not only provides better security than traditional software-based security systems but also is expected to be highly useful in creating a safe cloud environment."
The complete list of awards received by Professor Seungwon Shin's research team in the 2023 Cybersecurity Paper Competition is as follows:
  *Best Paper Award in Technology: Myeongseong Yoo (Ph.D. candidate) and Professor Jaehyun Nam (Dankook University)
  *Outstanding Paper Award in Technology Category: Jaehan Kim, Minkyu Song, and Youngjin Jin (Ph.D. candidates)
  *Paper Award in Technology Category: Suhyun Kim and Seungho Na (Ph.D. candidates)
  *Honorable Mentions in Technology Category (4 awards):
    -Hanna Kim (Ph.D. candidate) and Geon Choi (Student, Indiana University Bloomington)
    -Jaehan Kim and Minkyu Song (Ph.D. candidates)
    -Seungho Na and Somin Cho (Ph.D. candidates)
    -Minkyu Song and Jaehan Kim (Ph.D. candidates)