Research team of EE Prof. Myoungsoo Jung, Shinhyun Choi, Wanyeong Jung was selected as Samsung's Future Technology development of 2021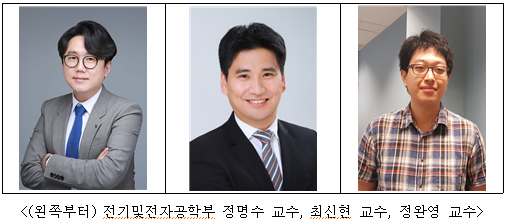 Professors of School of Electrical Engineering Prof. Myoungsoo Jung, Shinhyun Choi, Wanyeong Jung 's research project was selected as Samsung's Future Technology Development of 2021. The project covers a wide range of fields including computer architecture, AI frameworks, operating systems, circuits and devices. It is the first ICT convergence creative project with multidisciplinary project that covers device-circuit-systems in the Future Technology Development .
The details of the selected project is as follows:
| | | |
| --- | --- | --- |
| Field | Project name | Project Manager |
| ICT Convergence creative project | Heterogeneous new memory-based hardware and system software framework for accelerating graph neural network based machine learning. | Myoungsoo Jung |
The research team focuses on speeding up the popular GNN based machine learning model that uses relationship information in graph data. The project tries to solve the fundamental problems of GNNs by providing solutions from the device, circuit, architecture and operating system level.
The selection of the project is significant in that it suggests a multidisciplinary cooperation between device, circuit and computer science experts and builds a practical solution to the problem.
Samsung Elecgronics has been selecting Future Technology proejcts each year since 2014. Samsung Electronics selects vital technological projects that is necessary for the future of the country from fields of natural science, information communication technology.
Congratuations and a great thanks to the professors.