EE Professors Kim, Changick and Jeong, Jae-Woong Awarded on 2022 KAIST Research Day.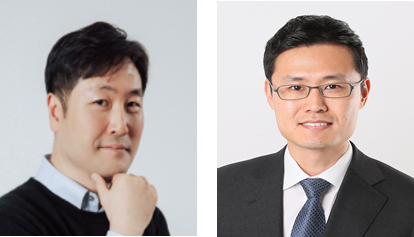 [From left, Prof. Kim, Changick, Prof. Jeong, Jae-Woong]
Professor Kim, Changick has been recognized with the Transdisciplinary Research Prize for his contributions to computer vision- and artificial intelligence-based monitoring  technology of anthropocene effects on the planet. Anthropocene is a scientific concept referring to the recent geological epoch distinct from previous ones, marked by unprecedented transformations in the planet's system from human activities since the Industrial Revolution. Prof. Kim has been conducting research with satellite images, computer modeling, and deep learning tools on monitoring the compromised states of planet Earth, such as climate change and sea level rises. In addition, as part of AI-based digital study of ecology, he has cooperated closely with anthropogeography and ecology experts to detect endangered species in the DMZ; he has developed a deep network capable of counting and classifying endangered species, such as the red-crowned cranes, the white-naped cranes, and the white-fronted geese. This study is meaningful in automating and maintaining the monitoring process of endangered species in the DMZ and Cheorwon.
Professor Jeong, Jae-Woong has been awarded the KAIST Scholastic Award for proposing a new direction in the automated treatment of brain diseases and cognitive research by developing for the first time an IoT (Internet of Things) based wireless remote control system for neural circuits in the brain. The proposed direction sets a vision for one of humanity's most difficult challenges: overcoming brain diseases. Prof. Jeong has also led the field of research in wirelessly rechargeable soft subdermal implantable devices. These works have been published in 2021 in top journals of medical engineering: Nature Biomedical Engineering and Nature Communications. Said studies were led by Prof. Jeong's team, with international collaborators in Washington University in School of Medicine, attracting over 60 press reports across the world.