Professor Kim Song Min's research team develops next-generation XR ultra-precision positioning technology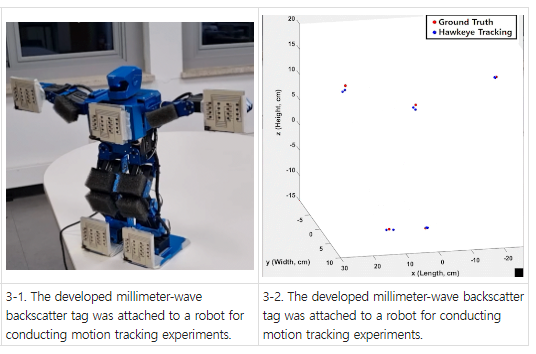 Using ultra-precision positioning technology, a groundbreaking perception system has been developed for the Internet of Things (IoT) devices and robots, enabling precise control over their subtle movements. Furthermore, this technology establishes a connection between the virtual world, such as extended reality (XR), and the real world.
Professor Kim Song Min's research team from the School of EE, has developed a state-of-the-art IoT positioning system that can simultaneously detect over 1,000 locations with a remarkable accuracy of 7mm from a record-breaking distance of 160 meters (0.35mm at 5 meters short range) using battery-free tags.
These wireless tags exhibits isolation from noise signals by having separate frequency domain, resulting in an astonishing signal quality improvement of over a million times. This innovative approach enables ultra-precision positioning.
By incorporating this technology, numerous IoT devices in extended reality (XR) environments can be controlled by subtle finger movements, which can greatly enhance the overall XR experience. Additionally, the system can simultaneously recognize over 1,000 tags within 0.5 seconds, which enables real-time manipulation of numerous devices.
This technology surpasses existing positioning systems in terms of operating range, accuracy, and scalability, which is very meaningful. In comparison to the current state-of-art indoor positioning technology, Ultra Wide Band (UWB), this system has 300 times the accuracy, 10 times the detection distance, and 100 times the scalability.
Unlike GPS-based outdoor positioning, which is limited to outdoor environments, this technology can be employed in various indoor and outdoor settings.
The tags in this system communicate by reflecting surrounding signals rather than generating their own wireless signals.
This principle, which is akin to that of a mirror, can reduce the energy required for signal generation, resulting in ultra-low power operation. As a result, the tags can be powered by sources such as solar panels or a single coin battery for over 40 years, making them suitable for massive operations.
The study, co-authored by Ph.D candidates Bae Kangmin and Moon Hangyeol from the School of EE, was presented at the prestigious international conference ACM MobiSys 2023. (Paper title: Hawkeye: Hectometer-range Subcentimeter Localization for Large-scale mmWave Backscatter)
Professor Kim Song Min stated, "This achievement is expected to not only benefit industries like smart factories but also be extensively applied in the private sector, such as XR (Extended Reality), enabling a widely applicable IoT technology for pervasive positioning awareness."